The preliminary results are in, and it looks like Susan Cunningham and Maureen Coffey will be the Democratic Party's nominees for Arlington County Board in the November election. Results are still not official yet, but nearly all ballots have been counted.
Here's how the ranked choice process played out, according to early results posted at approximately 6:30 PM on the Virginia Department of Elections website. In the first election day round of voting, Susan won the most votes, with about a quarter of all voters' first choice votes. She then picked up about 11% of Jonathan Dromgoole voters' second choice ballots, about a quarter of Tony Weaver voters' second place votes, about a fifth of JD Spain voters' second choice votes, and finally, appeared to be the second choice candidate for about two thirds of Natalie Roy supporters.
The results show Susan has support across many constituencies in Arlington County. Approximately 60% of Arlington voters ranked Cunningham at the top of their ballot, leading to her nomination to represent the Democratic Party as she now runs with Coffey to try to capture the two open seats on the county board in the November election.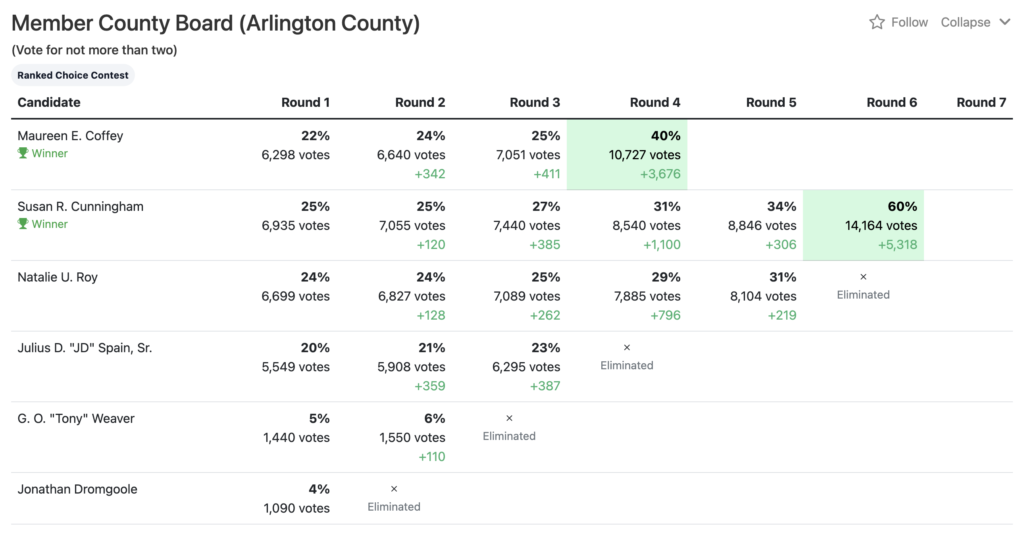 Full news coverage can be found at ARLNow: JUST IN: Coffey, Cunningham appear to have won County Board primary